springfieldradio.com - Springfield Radio History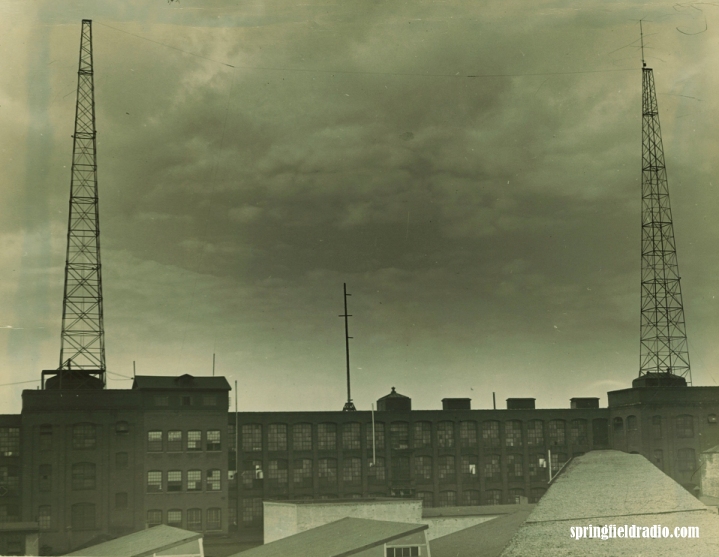 I

t appears that the first radio signal licensed to Springfield was that of WBZ(A). Earliest accounts show it on the air in June of 1922. Taken from the official Department of Commerce publication of June, 1922. Stations generally operated on 360 meters (833 kHz) at this time. 900 WBZA Springfield MA 5000 Licensed to Westinghouse Electric & Manufacturing Co. The towers stood on top of the Westinghouse Building on Page Boulevard until recently and only a couple of years ago did the Dipole Antenna connecting the two fall down. See the WBZA Tribute page for a picture of the towers.

W

estinghouse's WBZ in Springfield, Massachusetts actually began broadcasting in September 1921, Springfield's very first remote broadcast from the Eastern States Exposition in West Springfield! The choice of Springfield as a location may not be obvious today, but the Springfield plant had been selected as the place where Westinghouse would turn out those newly demanded receivers that were supposed to be the financial base of this new phenomenon called broadcasting.

O

nce on their feet and accepted as a new form of media, the station was known as "WBZ The Broadcasting Station of New England" This is the earliest known slogan from the 20's and 30's. Click on the link below to go to their page for a chronological history of events that has lead to the incredible success that started right here in Springfield.

L

ater in 1922, July to be exact, The Department of Commerce history shows two local call letter assignments. W H A X assigned to Holyoke and W I A P assigned to Springfield.

A

n FM Frequency assignment was also granted to Westinghouse in Springfield. 42.6 W1XSN Licensed to Westinghouse Electric, East Springfield, MA. @ 1000 watts.

T

his later became WBZA-FM 99.1 (97.1) WBZA-FM Springfield (M). Licensed to Westinghouse Radio Stations Inc. Channel 246 (97.1). W1XSN/W81SP/WBZA-FM Springfield, Mass. (Westinghouse E. & M. Co.) On air with experimental broadcasts Aug. 29, 1939, programmed from the studios of WBZA. (This date was supplied by Donna Halper, who reports it appears in notes written by Gordon Swan.) This station is listed among FM stations licensed and operating in Broadcasting of Mar. 15, 1940. It is one of several listed as having an FM construction permit in Broadcasting magazine of Aug. 1, 1939.

It received its commercial license June 19, 1943.

T

he following is taken from the June 1948 issue of Radio Craft magazine showing the sign on of 94.7 WMAS-FM Springfield MA and the reassignment of WBZA-FM from 99.1 to 97.1.

I

n 1950 other FM stations began appearing ... interestingly enough you'll notice that a new FM called WSPR-FM had been granted a frequency at what we knew as WPKX-FM, (KIX 97.9) licensed to Enfield, Connecticut in the early 1990's.

94.7 WMAS-FM Springfield MA 3200, 97.1 WBZA-FM Springfield MA 20000, 97.9 WSPR-FM Springfield MA 13000, 101.9 WSFL-FM Springfield MA 11000.

S

ome new information recieved from Bill Davies of North Haven tells us that these FM's all signed on. In fact Bill who, "had become very enthusiastic about the emerging FM band", remembers hearing all three of these stations and recalls such specifics as: "the WSPR-FM signoff mentioning the transmitter site on Mount something in Wilbraham." Taken from an email Bill sent to us:

"Before Westinghouse pulled the plug on both FMs, the standard ID for the simulcasting stations was "WBZ AM & FM Boston, WBZA AM & FM, Hotel Kimball, Springfield." (That was the original WBZ-FM 92.9 before they returned the license and later built the second WBZ-FM on 106.7.) I believe the transmitters for both WBZA stations were at the old Westinghouse plant in East Springfield. It hadn't yet appeared in White's Radio Log, so I was surprised to hear WSFL (101.9) in a music shop in West Hartford Center. It became WJKO, then they added daytimer WJKO-1600 (now WHNP), then they closed the FM. (I would love to learn where *that* FM transmitter was.) Three other commercial FMs were also operating in the Springfield market in the mid to late 1940s: WHYN-FM, WMAS-FM, and WACE-FM (100.3) Chicopee. The transmitters of all 3 were atop Mt. Tom in those pre-remote control days. WHYN remains there, WACE went dark, and WMAS-FM moved down to the AM site along side the Connecticut River, reducing their height above average terrain by about 800 feet!"

B

y 1958 WBZA-FM, WSPR-FM and WSFL-FM had fallen off the frequency allocation list, however another Commercial FM and two Educational allocations had appeared! WEDK-FM Springfield 91.7, WHYN-FM Springfield 93.1, WMAS-FM Springfield 94.7 and WSCB-FM Springfield 89.9.

A

lot of the information for this site was obtained from Donna Halper who's help was truly appreciated! I urge ANYONE in broadcasting to cruise through Donna's site and read up on how our industry actually came to be!